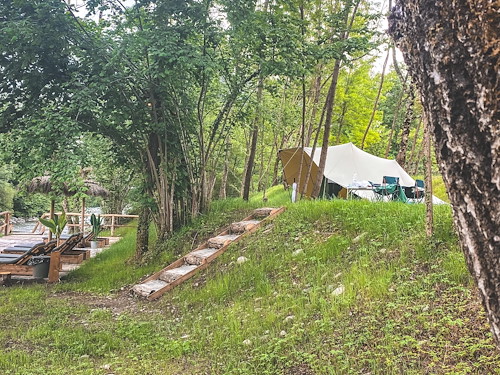 The five spacious shady tent pitches are located on the most beautiful piece of land of the campsite; right on the river under the trees. The kids can easily walk from the tent to the river to have fun for hours. All pitches have electricity and central water points. You can shower, wash and go to the toilet in the clean sanitary tent with six toilets, six showers and seven sinks.

These pitches are only suitable for tents and can be found on the map at T1 to T3. Since the pitches are on terraces between the trees, the space for a large tent is limited. We recommend booking an XL camping pitch for tents larger than 6x5 meters.

The modern and clean sanitary facilities consist of six toilets, six showers, three sinks and four normal sinks and are located in a lodge, which makes it nice and fresh and airy. There is power available for, for example, a hairdryer.

A big advantage of our location: it cools down wonderfully all year round (even in July and August) at night. No sticky nights, but sleep well under a duvet or sleeping bag!

In the early and late season the minimum stay is one night and arrivals and departures are not possible on Tuesdays. In high season the fixed changeover days are on Wednesdays and Saturdays.
Power and water supply

Per place 16 ampere camping connection

Central shared water points

Sanitary tent

6 toilets

6 showers

3 sinks for the dishes

4 sinks

Other

Campfire place

Gas and coal BBQ allowed

Freezer for ice packs

Possibility to rent a small kamado BBQ

Food

Fresh bread service mo-sa

Italian restaurant on camping site lunch & diner

Breakfast in the restaurant

Cool

River with decking and sunbeds

Swimming pool 14 x 8 meter with sunbeds

No sticky nights! Always nice and chill

Chill

Lounge bar with open fire

Kids

Playground

Sheep, horses, dogs and cats

No animation team, but great activities!

Availability & prices

December 2022
Mo
Tu
We
Th
Fr
Sa
Su
48
28
29
30
1
2
3
4
49
5
6
7
8
9
10
11
50
12
13
14
15
16
17
18
51
19
20
21
22
23
24
25
52
26
27
28
29
30
31
1
01
2
3
4
5
6
7
8

January 2023
Mo
Tu
We
Th
Fr
Sa
Su
52
26
27
28
29
30
31
1
01
2
3
4
5
6
7
8
02
9
10
11
12
13
14
15
03
16
17
18
19
20
21
22
04
23
24
25
26
27
28
29
05
30
31
1
2
3
4
5

February 2023
Mo
Tu
We
Th
Fr
Sa
Su
05
30
31
1
2
3
4
5
06
6
7
8
9
10
11
12
07
13
14
15
16
17
18
19
08
20
21
22
23
24
25
26
09
27
28
1
2
3
4
5
10
6
7
8
9
10
11
12

March 2023
Mo
Tu
We
Th
Fr
Sa
Su
09
27
28
1
2
3
4
5
10
6
7
8
9
10
11
12
11
13
14
15
16
17
18
19
12
20
21
22
23
24
25
26
13
27
28
29
30
31
1
2
14
3
4
5
6
7
8
9

April 2023
Mo
Tu
We
Th
Fr
Sa
Su
13
27
28
29
30
31
1
2
14
3
4
5
6
7
8
9
15
10
11
12
13
14
15
16
16
17
18
19
20
21
22
23
17
24
25
26
27
28
29
30
18
1
2
3
4
5
6
7

May 2023
Mo
Tu
We
Th
Fr
Sa
Su
18
1
2
3
4
5
6
7
19
8
9
10
11
12
13
14
20
15
16
17
18
19
20
21
21
22
23
24
25
26
27
28
22
29
30
31
1
2
3
4
23
5
6
7
8
9
10
11

June 2023
Mo
Tu
We
Th
Fr
Sa
Su
22
29
30
31
1
2
3
4
23
5
6
7
8
9
10
11
24
12
13
14
15
16
17
18
25
19
20
21
22
23
24
25
26
26
27
28
29
30
1
2
27
3
4
5
6
7
8
9

July 2023
Mo
Tu
We
Th
Fr
Sa
Su
26
26
27
28
29
30
1
2
27
3
4
5
6
7
8
9
28
10
11
12
13
14
15
16
29
17
18
19
20
21
22
23
30
24
25
26
27
28
29
30
31
31
1
2
3
4
5
6

August 2023
Mo
Tu
We
Th
Fr
Sa
Su
31
31
1
2
3
4
5
6
32
7
8
9
10
11
12
13
33
14
15
16
17
18
19
20
34
21
22
23
24
25
26
27
35
28
29
30
31
1
2
3
36
4
5
6
7
8
9
10

September 2023
Mo
Tu
We
Th
Fr
Sa
Su
35
28
29
30
31
1
2
3
36
4
5
6
7
8
9
10
37
11
12
13
14
15
16
17
38
18
19
20
21
22
23
24
39
25
26
27
28
29
30
1
40
2
3
4
5
6
7
8

October 2023
Mo
Tu
We
Th
Fr
Sa
Su
39
25
26
27
28
29
30
1
40
2
3
4
5
6
7
8
41
9
10
11
12
13
14
15
42
16
17
18
19
20
21
22
43
23
24
25
26
27
28
29
44
30
31
1
2
3
4
5

November 2023
Mo
Tu
We
Th
Fr
Sa
Su
44
30
31
1
2
3
4
5
45
6
7
8
9
10
11
12
46
13
14
15
16
17
18
19
47
20
21
22
23
24
25
26
48
27
28
29
30
1
2
3
49
4
5
6
7
8
9
10

December 2023
Mo
Tu
We
Th
Fr
Sa
Su
48
27
28
29
30
1
2
3
49
4
5
6
7
8
9
10
50
11
12
13
14
15
16
17
51
18
19
20
21
22
23
24
52
25
26
27
28
29
30
31
01
1
2
3
4
5
6
7

December 2022

There are no prices for this month

January 2023

February 2023

March 2023

April 2023

May 2023

June 2023

July 2023

August 2023

September 2023

October 2023

November 2023

December 2023

Previous month Next month