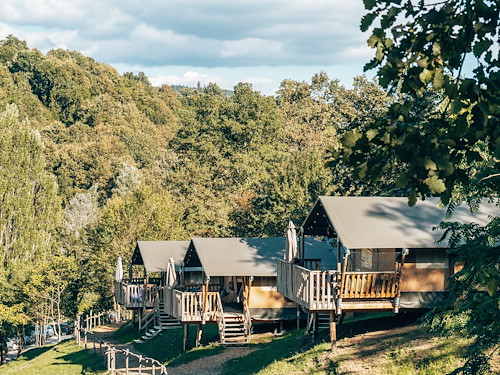 Staying in one of our spacious lodges for 4-5 people with a size of 5 x 10 meters, it's impossible to call it camping. All tents have their own bathroom with shower and toilet. The kitchen is spacious and fully equipped and has a cozy dining area with a sofa. The master bedroom has a fixed double bed and the second bedroom has a bunk bed for the kids. Here we can place another bed for possibly a fifth person. We offer the option to book a small tent next to the lodge, so that the kids have their own space.

A big advantage of our location: it cools down wonderfully all year round (even in July and August) at night. No sticky nights, but sleep well under a duvet!

The inventory list can be found under ''Properties''. The beds are made on arrival, a set of towels is provided for everyone and there is a set of kitchen towels ready.

In the early and late season the minimum stay is three nights and arrivals and departures are not possible on Tuesdays. In the high season we only rent per week and the changeover day is on Saturday.
Living area

50 m2

Large dining table with sofa and chairs inside

Kitchen inventory

Sugar shaker

Kitchenware

Whistling kettle

Thermos

Mixer

Tupperware

Storage jars

Milk frother

Cutting board

Lettuce centrifuge / colander

Knives

Corkscrew / bottle opener

Knife sharpener

Dish drainer / drainer for cutleryDish drainer / d

Dish brush

Bucket

BroomBroom

Dustpan and dustpan

Salad servers

Coasters

Cutlery

Bowls

Big and small plates

Laundry rack

Serving dishes

Espresso cups

Beer- wine- and longdrink glasses

Water carafe

Coffee cups and thea glasses

Kitchen

Big kamado BBQ

Big fridge with freezer

Gas stove 4-burner

Lavazza coffee machine

Bathroom

Washbasin

Toilet

Shower cabin

Terrace

Parasol

Chill sofa

Large dining room with chairs outside

Food

Italian restaurant on camping site lunch & diner

Breakfast in the restaurant

Fresh bread service mo-sa

Cool

River with decking and sunbeds

Swimming pool 14 x 8 meter with sunbeds

No sticky nights! Always nice and chill

Chill

Lounge bar with open fire

Kids

Playground

No animation team, but great activities!

Sheep, horses, dogs and cats

Availability & prices

December 2022
Mo
Tu
We
Th
Fr
Sa
Su
48
28
29
30
1
2
3
4
49
5
6
7
8
9
10
11
50
12
13
14
15
16
17
18
51
19
20
21
22
23
24
25
52
26
27
28
29
30
31
1
01
2
3
4
5
6
7
8

January 2023
Mo
Tu
We
Th
Fr
Sa
Su
52
26
27
28
29
30
31
1
01
2
3
4
5
6
7
8
02
9
10
11
12
13
14
15
03
16
17
18
19
20
21
22
04
23
24
25
26
27
28
29
05
30
31
1
2
3
4
5

February 2023
Mo
Tu
We
Th
Fr
Sa
Su
05
30
31
1
2
3
4
5
06
6
7
8
9
10
11
12
07
13
14
15
16
17
18
19
08
20
21
22
23
24
25
26
09
27
28
1
2
3
4
5
10
6
7
8
9
10
11
12

March 2023
Mo
Tu
We
Th
Fr
Sa
Su
09
27
28
1
2
3
4
5
10
6
7
8
9
10
11
12
11
13
14
15
16
17
18
19
12
20
21
22
23
24
25
26
13
27
28
29
30
31
1
2
14
3
4
5
6
7
8
9

April 2023
Mo
Tu
We
Th
Fr
Sa
Su
13
27
28
29
30
31
1
2
14
3
4
5
6
7
8
9
15
10
11
12
13
14
15
16
16
17
18
19
20
21
22
23
17
24
25
26
27
28
29
30
18
1
2
3
4
5
6
7

May 2023
Mo
Tu
We
Th
Fr
Sa
Su
18
1
2
3
4
5
6
7
19
8
9
10
11
12
13
14
20
15
16
17
18
19
20
21
21
22
23
24
25
26
27
28
22
29
30
31
1
2
3
4
23
5
6
7
8
9
10
11

June 2023
Mo
Tu
We
Th
Fr
Sa
Su
22
29
30
31
1
2
3
4
23
5
6
7
8
9
10
11
24
12
13
14
15
16
17
18
25
19
20
21
22
23
24
25
26
26
27
28
29
30
1
2
27
3
4
5
6
7
8
9

July 2023
Mo
Tu
We
Th
Fr
Sa
Su
26
26
27
28
29
30
1
2
27
3
4
5
6
7
8
9
28
10
11
12
13
14
15
16
29
17
18
19
20
21
22
23
30
24
25
26
27
28
29
30
31
31
1
2
3
4
5
6

August 2023
Mo
Tu
We
Th
Fr
Sa
Su
31
31
1
2
3
4
5
6
32
7
8
9
10
11
12
13
33
14
15
16
17
18
19
20
34
21
22
23
24
25
26
27
35
28
29
30
31
1
2
3
36
4
5
6
7
8
9
10

September 2023
Mo
Tu
We
Th
Fr
Sa
Su
35
28
29
30
31
1
2
3
36
4
5
6
7
8
9
10
37
11
12
13
14
15
16
17
38
18
19
20
21
22
23
24
39
25
26
27
28
29
30
1
40
2
3
4
5
6
7
8

October 2023
Mo
Tu
We
Th
Fr
Sa
Su
39
25
26
27
28
29
30
1
40
2
3
4
5
6
7
8
41
9
10
11
12
13
14
15
42
16
17
18
19
20
21
22
43
23
24
25
26
27
28
29
44
30
31
1
2
3
4
5

November 2023
Mo
Tu
We
Th
Fr
Sa
Su
44
30
31
1
2
3
4
5
45
6
7
8
9
10
11
12
46
13
14
15
16
17
18
19
47
20
21
22
23
24
25
26
48
27
28
29
30
1
2
3
49
4
5
6
7
8
9
10

December 2023
Mo
Tu
We
Th
Fr
Sa
Su
48
27
28
29
30
1
2
3
49
4
5
6
7
8
9
10
50
11
12
13
14
15
16
17
51
18
19
20
21
22
23
24
52
25
26
27
28
29
30
31
01
1
2
3
4
5
6
7

December 2022

There are no prices for this month

January 2023

February 2023

March 2023

April 2023

May 2023

June 2023

July 2023

August 2023

September 2023

October 2023

November 2023

December 2023

Previous month Next month